Ben Korbel – Re-Model Co-Founder & Executive Creative Director, at home in Bondi Beach

(3 minute read)
Tony Spanos is the man behind a community centre for ravers, hip hop artists and Indigenous Youth in the 1990s, called the Graffiti Hall of Fame. As a new underground music culture burgeoned, Spanos, the son of a Greek multi-millionaire, decided to invest his wealth in fostering community, by converting the driveway to his family factory into a modern art gallery and rave complex. This two-story concrete bunker reined strong for over a decade, a grassroots hub for urban youth and indigenous organisations – fundraising, connecting and of course throwing parties.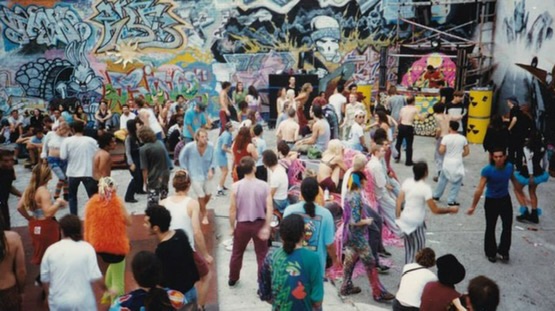 Graffiti Hall of Fame, Alexandria, Sydney
My name is Ben Korbel. I am Co-founder and Executive Creative Director of Re-Model Universe. I met RMU founder Jo a few short years after this particular story, also at an outdoor rave party. However for now, let's start a few years earlier in the early 90s when I was in high school.
I first came into contact with Tony Spanos and the Graffiti Hall of Fame when I was 16 and starting to explore the party scene. A rave party in the inner west called 2036, was shut down by police before it had even started. I was there in baggy denim jeans and spiky bleached blond hair, emulating Sonic The Hedgehog. It was a look of the times. 1000s of teenagers swarmed the streets, lost at the closure of a major event we'd all been looking forward to, until Tony Spanos picked up the reins and opened his community centre for free for everyone. 
Like ships in the night, RMU Founder Jo was also at this same party of Tony's, though as noted, we in fact met a few years after this event, while our souls were stirred by the same early foundations of rave, community and counterculture.
A quick aside, much of this story and interview can be credited to the awesome Vice network and we thank them for keeping the flame alive that is Tony Spanos.
Who is this enigmatic Tony Spanos? Tony describes himself as 
"A little man with a lot of heart."

"Not an activist. Not a graffiti artist. Not a raver. Just this wild guy with a bit of money that doesn't want to see any kids get into trouble."
"A cat napper. A live-er, day and night. A man with a lot of stamina, a lot of energy."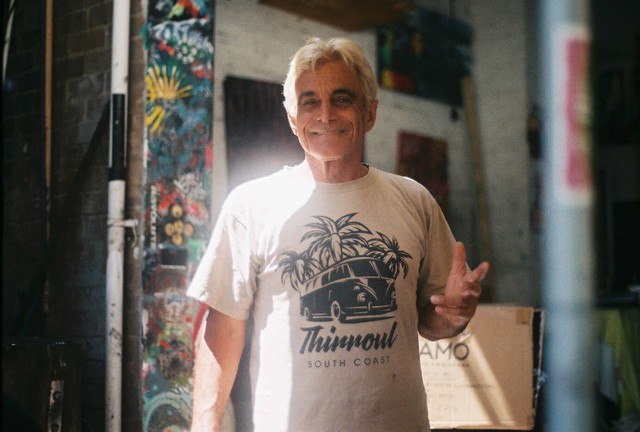 Tony Spanos
What was the Graffiti Hall of Fame all about? The hall was a haven for young graffiti artists, DJs and kids banging to the beat of one drum, 1990s hardcore, happy hardcore and all things rave. Tony paid for everything from equipment and ongoing permit and legal management, to his legendary and generous morning food sessions. Without judgement and while the Hall of Fame was no alcohol or drugs, Tony always cooked up a storm for the morning sunrise, feeding the young community with love and making them fed and respectable before returning meekly to their homes. All for free.
"I was the rich guy that had money and was trying to give them an honest upbringing. I'd take them, and pay them, and steer them away from crime – the corruption out there – that lead them to do drugs" said Tony.
"I decided to turn our Meat-works carpark into the Graffiti Hall of Fame and sponsor all the kids to live their dreams. Whatever they want to be."
If a kid shined, Tony invited them to paint a hallowed wall of the Hall, paying them wages, buying them paint and presenting them with a portfolio, business cards and a launchpad into a legitimate creative career in design.
Tony's magic, his mission and his generosity, imprinted and shaped my formative years, as I suspect it did for RMU Founder Jo as well. 
Re-Model is not the first company I have co-founded with Jo Pretyman. I first joined as Co-founder for Jo's amazing creativity school for at risk youth, called I-Manifest. 
What is I-Manifest? I-Manifest is a school of the future that empowers life long careers in the creative industries, be it music, fashion or film, for at-risk youth, including first and second generation refugees, that might otherwise not be given an opportunity to deviate from a more traditional career.  Education is one of the most powerful gifts we can offer – educated, empowered humans live with passion from their heart and respect themselves, generally living in a way that is kind, fair and inspired. Essentially because they are happy. These are important ingredients for a peaceful, alive world free from the influx of global mental illness, especially within teenagers… an antidote to anxiety, depression as well as a framework to transcend prejudice and violence through a shared community and love of rave music.
In sharing the story of Tony Spanos and my own youth as a raver, I happily reflect on the magic, power and gift of electronic rave music, counter culture and safe community spaces as well as the importance of mentors such as Spanos. This is a real foundation of how we build harmonious societies powered by passion and laced with style. Rose coloured glasses. Absolutely, in the best possible way. Equal parts optimism and grounded being.
As Jo and I embark on this new mission, delivering social impact through entertainment #music #fashion #purpose, let this first love letter to my youth be a reminder and guiding compass for Re-Model Universe on the importance of giving back, and importantly the power of shared experience through music, fashion and culture.
Peace, love, unity and respect.
#plur
Ben Korbel
Co-Founder and ECD – Re-Model Universe
Graffiti Hall of Fame sponsored bus

Read the whole Vice article here
https://www.vice.com/amp/en/article/dy7emw/the-history-behind-the-graffiti-hall-of-fame-sydneys-90s-rave-haven
Watch a short documentary on Tony Spanos here